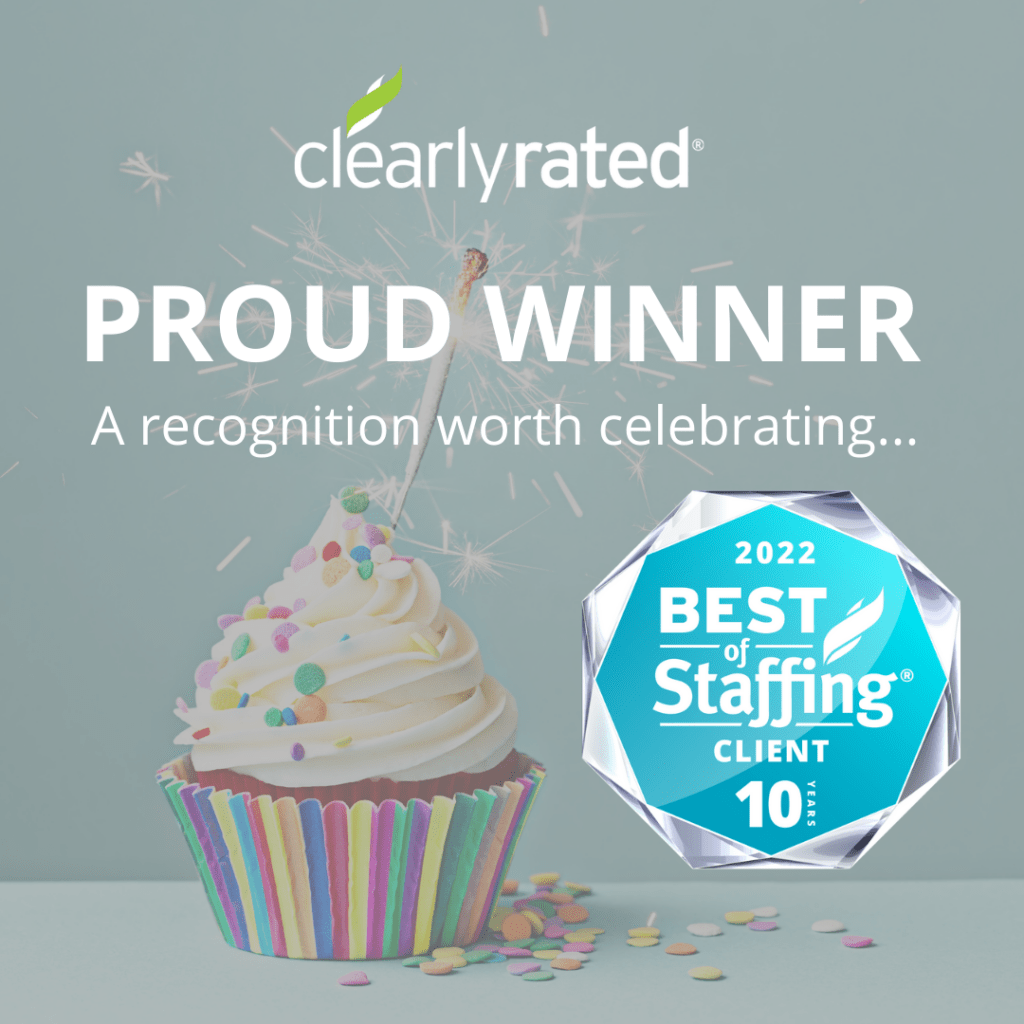 5 Ways Our Staffing Awards Are a Win for Montana Businesses & Talent
Humility, especially here in Montana, is a highly valued character trait. We like to let our hard work and strong results speak for themselves. That's why sharing the recent news that LC Staffing was honored with Best of Staffing Client and Talent Diamond awards from ClearlyRated is a little tricky for us. We are hard workers who focus intently on the results that matter most to our clients and associates, such as:
Great hires and higher workforce productivity for our clients
Increased job satisfaction, grown and earning opportunities for talent
And while we like those consistent outcomes to speak to our success, we also want to share this latest awards milestone because it marks 10 years of being named a best-in-class staffing provider by clients and nine years being named a best-in-class employment provider by talent. The traits and practices recognized by these awards are the reason why LC Staffing outperforms national staffing competitors. What are those distinguishing characteristics that local businesses and job seekers can and should benefit from? Here are just five of the many award-winning traits we've cultivated as we work to keep Montana talent and businesses moving forward.
Five Winning Staffing Qualities
Ears to the Montana Ground

We are carefully attuned to the labor market and economic trends that shape the Montana economy. Our insight and connections across local businesses, government and talent populations gives us a recruitment advantage that accelerates talent engagement and gives us a head start when it comes to adapting to marketplace changes. Our "ears to the ground" approach also focuses on listening deeply to client needs and challenges in order to build more effective, informed and customized workforce strategies.
Community Stewardship

"Our teams care deeply about their local communities," says Kristen Heck, LC Staffing CEO and Owner. "They are boldly committed to our mission: to keep moving people and businesses forward to protect Montana livelihoods, relationships, and communities." That local pride and stewardship of the people and places that make Montana great gives LC Staffing an added jolt of dedication that can be seen in how we connect and care for our clients, associates, and staff.
Innovation + Personal Persistance

LC Staffing leverages innovative sourcing, recruitment, engagement, assessment, and analytics tools in order to keep pace with staffing demands, labor force changes and candidate needs. We balance human touch with time-saving recruitment automation, talent vetting and data analytics to provide workforce solutions at the speed of business.

What's also key to our innovative approach is that we ensure technology is only one tool in our arsenal. We believe the best workforce solutions require human insight and guidance, no matter how fast and smart the technology is. That's why you always get award-winning, personal service and support alongside our next-gen capabilities.
Placement Patience & Persistance

Making great talent matches and career placements takes patience, and our recruiters are willing to invest the time and work. Some of our favorite workforce solutions are the ones that took a bit of extra time and resulted in the best outcomes for our clients and the candidates. Here's an example from our gifted LC Staffing Recruiter, Haley Miller:

"One of my favorite candidate/client success stories came from direct outreach I did on LinkedIn. I identified a local professional who tagged his profile as looking for work. Though he had an offer when I reached out, we stayed connected. Eventually, he posted that his dream role had fallen through, and I brought him in to discuss his skills. While I didn't have an employer with an opening that matched what he was looking for, I scoured the broader marketplace for opportunities. That research paid off. I found a manufacturer in search of similar skills.

For several weeks, I worked with both the candidate and the business to make a connection. Though neither of them had reached out to LC Staffing, I was able to bring them together for interviews and they both realized it was a great match. After a bit of negotiation on the offer from both sides, the candidate was hired, and LC Staffing gained a wonderful new client and candidate connection.

I love this story because it shows how resourceful and patient we are tried to be as we methodically work to connect Montana businesses and talent."
Experts Who Evolve & Grow

What makes us great at staffing is that we are never done improving on our approach, service excellence or our teams. We consistently invest in employee training and development to keep our skills sharp for our clients and candidates. Those development investments are also key to keeping our employee satisfaction and retention high, which results in a workforce that is highly skilled, experienced, and eager to succeed.
To get to know our award-winning teams and approach firsthand, contact your local office.
Related Posts