LC Staffing Wins ClearlyRated's 2021 Best of Staffing, Best of Client, and Best of Talent.
LC Staffing, a leading staffing agency announced today that they have won the Best of Staffing Client and Talent Diamond Awards for providing superior service to their clients and candidates for at least five (5) consecutive years.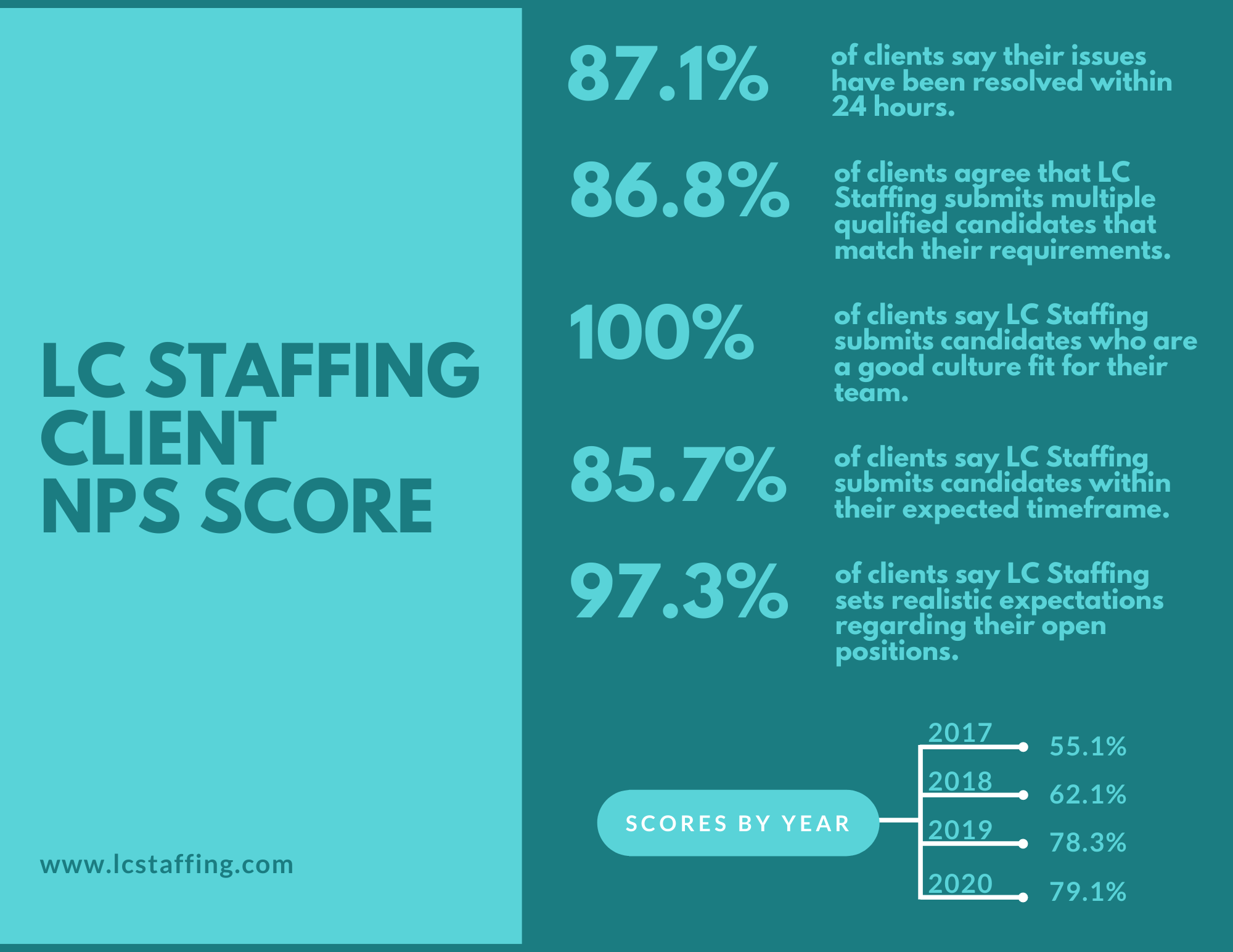 Presented in partnership with presenting sponsor CareerBuilder and gold sponsors Indeed & Talent.com,ClearlyRated's Best of Staffing® Award winners have proven to be industry leaders in service quality based entirely on ratings provided by their clients and candidates. On average, clients of winning agencies are twice as likely to be completely satisfied and candidates who have been placed by winning agencies are twice as likely to be completely satisfied with the services provided compared to those working with non-winning agencies. LC Staffing received satisfaction scores of 9 or 10 from 67.9% of their placed job candidates, significantly higher than the industry's average of 40%.
"With much grace, our team of problem solvers quickly pivoted to a safer and effective delivery of our services. During the height of the COVID crisis we increased our outreach with our workforce to survey their situation and provide support.  We are so grateful for our employer-clients who rely on LC for their essential workers, and how they partner with us to keep people healthy and working.  Many of our employer-clients are leveraging our recruiting pros to attract a more diverse and capable team.  LC Staffing has great respect for our workers!" LC Staffing's President and CEO, Kristen Heck said.
"After one of the most turbulent years in modern history, winners of the 2021 Best of Staffing award have proven their commitment to go above and beyond in support of their clients and placed talent," said ClearlyRated's CEO and Founder, Eric Gregg. "These service leaders have demonstrated their capacity to be agile, to be precise, and to prioritize the client and talent experience above all else. It is my honor to celebrate and showcase the 2021 Best of Staffing winners alongside feedback from their actual clients and placed talent on ClearlyRated.com!"
About LC Staffing
Locally owned and operated, LC Staffing has been matching top talent with Montana employers since 1985. Headquartered in Kalispell and with branches in Bozeman, Missoula, and Columbia Falls, they pride themselves in partnering an individual's skills and interests with a company's specific team dynamic and changing needs. A certified Woman Owned Small Business (WOSB), LC Staffing enthusiastically serves over 700 Montana companies beyond expectation through sound business practices, innovative thinking and outstanding people. For more information, please visit www.lcstaffing.com.
About ClearlyRated
Rooted in satisfaction research for professional service firms, ClearlyRated utilizes a Net Promoter® Score survey program to help professional service firms measure their service experience, build online reputation, and differentiate on service quality. Learn more at https://www.clearlyrated.com/solutions/.
About Best of Staffing
ClearlyRated's Best of Staffing® Award is the only award in the U.S. and Canada that recognizes staffing agencies that have proven superior service quality based entirely on ratings provided by their clients and placed talent. Award winners are showcased by city and area of expertise on ClearlyRated.com—an online business directory that helps buyers of professional services find service leaders and vet prospective firms with the help of validated ratings and testimonials.
Related Posts