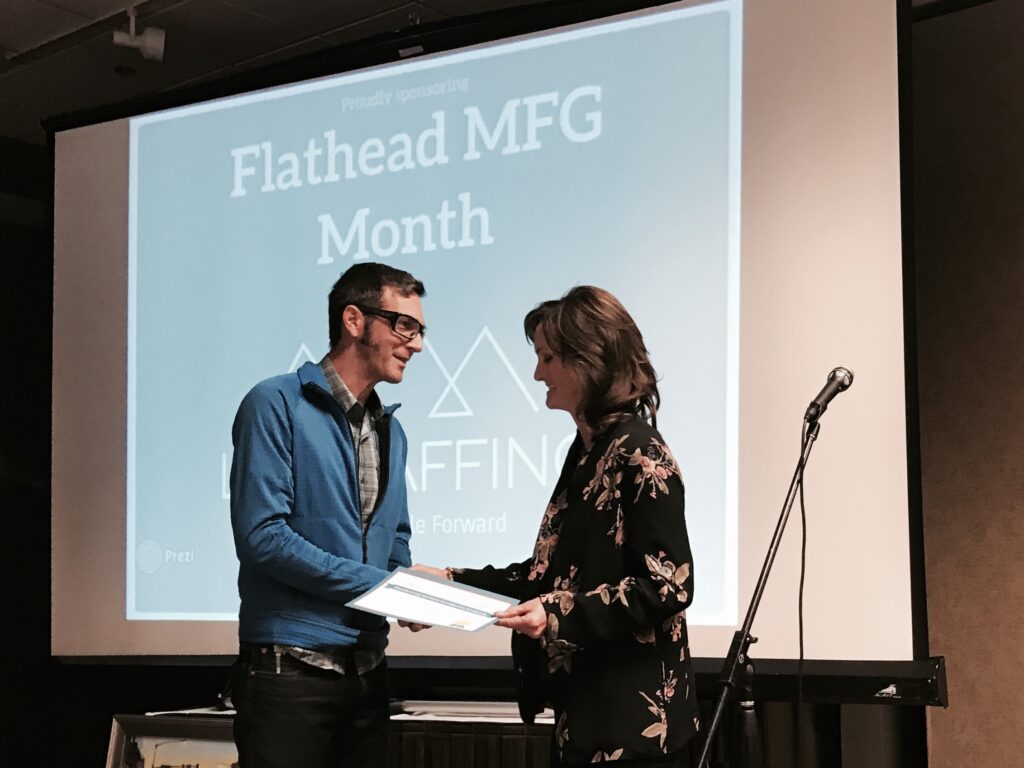 LC STAFFING PRESENTS FIRST LC STAFFING MANUFACTURING WORKFORCE DEVELOPMENT SCHOLARSHIP AT FVCC
LC Staffing presented their first LC Staffing Manufacturing Workforce Development Scholarship at FVCC to Scott Chance Cooke at the September Kalispell Chamber of Commerce Manufacturing Luncheon.
To help foster development of a strong manufacturing workforce, LC Staffing started a scholarship for returning students who are earning the Advanced Manufacturing Certification. The criteria are based on the demonstration of a great work ethic.
Based on glowing recommendations from FVCC's manufacturing faculty, the LC Staffing Manufacturing Workforce Development Scholarship at FVCC was awarded to Scott Chance Cooke. Chance is currently pursuing an Associate of Applied Science degree in Industrial Machine Technology. He has already earned 45 credits at FVCC and has an excellent GPA. FVCC's manufacturing faculty say, "Chance exhibits exemplary ethic – both moral and work!" We were thrilled to recognize and reward Chance's work ethic with our scholarship of $1,000.00.
Kalispell Chamber of Commerce's Manufacturing Month is all about celebrating manufacturing. "By providing an opportunity to focus collective attention on manufacturing, we want to empower manufacturers, change public perceptions of manufacturing, introduce people to manufacturing careers, draw attention to the roles manufacturers play in our communities, and highlight the economic and social significance of manufacturing." LC Staffing president and owner, Kristen Heck, stated at the luncheon.
"LC Staffing provides workforce solutions for dozens of Montana Manufacturing firms, large and small, who are wonderful employers, and contributors to our communities. Our recruiters can have the opportunity to introduce manufacturing job opportunities and career ladders to opportunity seekers who had not considered manufacturing in their job search."
An available and effective workforce is a challenge for many manufacturers in Montana. LC Staffing approaches this constraint with effective new recruiting methods, including partnering with FVCC to attract a qualified workforce. "Work ethic is very important to us, it's a topic we hear so much about from employers," said Kristen Heck. "We are elated to be able to present this scholarship to Chance in honor of his hard work."
Related Posts